The Best Netflix VPN in 2023
The best VPN for Netflix is ExpressVPN, due to its ease of use, fast speeds and high ability to get past Netflix's proxy ban. However, we have six other VPN alternatives that are great for accessing Netflix, so keep reading.
Netflix is great. Easy to use, shows and movies for everybody, no need to get off the couch…it's no wonder streaming is one of the most popular use cases for a virtual private network (VPN). People have been looking for the best Netflix VPN for as long as Netflix and VPNs have existed, but I'm here to resolve the argument for good.
How, you might ask? By compiling the definitive list of Netflix VPNs you can subscribe to today. These VPNs have download speeds like a bullet train, servers in countries all over the world and IP addresses that can access Netflix without breaking a sweat.
With these providers, you'll be able to check out content libraries you can't see in your home country any other way. So get comfortable, grab your favorite drink, and get ready to learn about the best Netflix VPN and its runners-up.
---
What Is the Best VPN for Netflix?
If you're looking for the best VPN for Netflix, ExpressVPN should be your first stop, but the six runners-up below are also great choices.
Of course, the most important criteria for the list was whether the VPN can actually make it onto Netflix. That's just table stakes, though. It takes a bit more to be the best Netflix VPN, as you'll see below.
How to Choose the Best Netflix VPN
For starters, it's not enough for a VPN to unblock Netflix on one server or protocol. These seven services made the list for consistency: they get through Netflix's firewalls on every protocol, in every location and on every server within each location. I can't test every single server, but I can check enough to get an idea I can generalize.
Next, I considered speed. Each Netflix VPN needs enough download speed to stream videos without interruption, even on the other side of the world (gotta get that K-drama fix). You need a minimum of 5 megabits per second (Mbps) for standard video, 25 Mbps for HD video, and 40 Mbps for UHD.
The best VPNs for Netflix must have a good security and privacy record, and be easy for a beginner to download and use — even after a long day, when they just want to watch TV. A Netflix VPN should support multiple devices, so your family doesn't have to agree on one show. It's also great if you can afford it without ruining your budget.
Finally, the server network is critical. You can't enjoy the forbidden Netflix library of another country if your Netflix VPN doesn't have servers in those countries. At the bare minimum, a qualifying VPN should have locations on all six continents.
Can I Use Netflix With a VPN?

Yes! Although Netflix officially bans VPNs, it can't do anything more than block IP addresses associated with VPN servers. If you use one of the best Netflix VPNs from this list, you shouldn't face the proxy error at all.

Can Netflix Ban You for Using VPN Services?

No. Not only does Netflix not ban you for using a VPN, but if you're using a good one, Netflix couldn't identify you if it did want to ban you.

How Can I Get Around the Netflix VPN Ban?

Use a VPN with a good track record of getting into Netflix, such as ExpressVPN, NordVPN, Surfshark or Proton VPN. See my best VPN for Netflix list for more options.
---
The 7 Best VPNs for Netflix
All the above criteria may seem like a tall order, but amazingly, I did find seven VPNs that fit the bill. Here's the final list of the best VPNs for Netflix, with ExpressVPN in the lead.
Pros
Extremely fast & easy to use
Servers in 94 countries
Kill switch, split tunneling & no logs
Unblocks all major streaming services
Excellent security record
Cons
Expensive
Uses some virtual servers
Streaming Access
One hears a lot about ExpressVPN, to the point where I'd forgive you for thinking its reputation is just good marketing. This VPN doesn't need to buff out its flaws with ads, though — the product speaks for itself. The first thing you'll notice is how easy it is to use; it perfected the "one giant button" design that so many other services now copy.
In addition to good design and great speeds, ExpressVPN has the best record of unblocking Netflix that I've seen on any VPN. There's no service where every single server works every single time, but ExpressVPN always requires the fewest attempts, with at least one location in every country working out.
Its broad server network — 160 locations in 94 countries — is another plus, giving you a huge range of international Netflix libraries to check out. Download speeds are also worth mentioning. ExpressVPN may not be the fastest Netflix VPN of all, but it's consistently fast enough for good streaming.
A VPN for Smart TVs
ExpressVPN isn't unique in its ability to work on smart TVs like Apple TV, Android TV and Amazon Fire TV Stick. However, it does offer a wealth of options for doing so, including easy router installs, managing a virtual router through a PC install, mirroring a mobile device and using its MediaStreamer service to change your location or IP address.
You currently have three options for subscribing: one month at a time for $12.95, six months for $59.95 ($9.99 per month) or 15 months for $99.95 ($6.67 per month). See our full ExpressVPN review to learn more. Otherwise, using its 30-day money-back guarantee is a great way to fully test the features.
---
Pros
Easy to operate
Unblocks every major streaming service
Great savings on one- & two-year plans
Includes a kill switch & ad blocker
Strict no-logs policy
Cons
Suffered a security breach in the past
Split tunneling isn't available on all OSes
Streaming Access
NordVPN is in a constant battle with ExpressVPN for the top spot on almost every list. That competition has clearly been good for both of them. While NordVPN may not rival ExpressVPN's server network or user-friendly interface, it pulls ahead in other areas.
For example, as we'll see below, NordVPN has servers optimized for streaming, as well as other tasks like torrenting. It's also actually ahead of ExpressVPN in terms of raw speed. I retained almost all my download speeds on servers as far away from my U.S. base as North Macedonia, South Africa and Singapore.
This is all just leading up to the true reason you're here: whether NordVPN can unblock Netflix. The answer is a resounding yes. Much like with ExpressVPN, we got into the streaming service on the first few servers we tried in each country. NordVPN has servers in about 60 countries, with enough content to keep you busy for quite a while.
Streaming-Optimized Servers
Many VPNs offer specialty servers for specific tasks, and NordVPN is no exception, leading the field with servers for double-hop connections, obfuscated browsing, P2P file sharing — and yes, streaming. NordVPN's streaming servers use their IPs that are less likely to be known to Netflix, leading to a better access rate overall.
If NordVPN is your choice, you've got a few ways to get a hold of it. These prices are all for the Standard plan, which provides all the VPN service you need to unblock Netflix: one month at a time for $11.99, 12 months for $59.88 ($5.99 per month) or 24 months for $83.76 ($3.49 per month). Our NordVPN review has the full story. You can also test it with the money-back guarantee: 30 days, just like ExpressVPN.
---
Pros
Very good price-performance ratio
High security level
Netflix-compatible
Unlimited simultaneous connections
Great support with live chat
Cons
No information on individual servers
Can have issues establishing a connection
Streaming Access
Surfshark is a fast-growing VPN that's easier to fit into your budget than either ExpressVPN or NordVPN. It just introduced Sufrshark One, a package deal that bundles VPN service with an antivirus, safe search engine and data breach monitor, so now wouldn't be a bad time to get on board.
Its speeds are pretty good and consistent, too. You'll lose a chunk of download speed on the initial connection, but hardly any after that. If you start with decently fast unprotected speed, you're guaranteed quality streaming. That all pairs with an impeccably designed interface and strong additional features, like multi-hop connections and static IP addresses.
How is it as a Netflix VPN? Every Surfshark server I tried unblocked Netflix on or near the first try. It's got more locations than NordVPN, but fewer servers overall — so you might not have quite as many options if a few locations don't work in a row.
Unlimited Simultaneous Connections
Perhaps the best thing about Surfshark, though, is that it doesn't limit simultaneous connections. In case you're not steeped in the lingo, this means that one account can use the VPN on as many devices as you've got. It's ideal for big families that have a hard time agreeing on what to watch.
Pricing is surprisingly cheap for what you get, as long as you choose more than one month at a time. Subscriptions come in three lengths: one month at a time for $12.95, 12 months for $47.88 ($3.99 per month) or 24 months for $59.76 ($2.49 per month). Read our full Surfshark review to get all the details on these shark-infested waters. There's also a 30-day money-back guarantee.
---
Pros
Fast download & upload speeds
Impeccable security
Unblocks all streaming services
Unique quality-of-life features
Servers in oft-ignored locations
Cons
High latencies on most servers
No live chat support
Overpriced plans
Few servers overall
Manual router installation only
Streaming Access
Proton VPN is the perfect Netflix VPN for a very specific situation. If you want to watch Netflix libraries in the U.S., the Netherlands or Japan, Proton's free plan lets you access those locations without any restrictions — no money, no data limits. There's some good content in those three countries (and the U.S. servers will get you into Hulu as well).
With that said, the free servers on any VPN tend to get overloaded quickly, so it's worth giving Proton's paid plan a try. It comes with a friendly interface, a kill switch and even limited programmability. Download and upload speeds are fantastic, too, though latencies can be all over the map (bear in mind this matters more for gaming than streaming).
Like Surfshark, Proton VPN is also part of a family of products (Proton Unlimited), with Proton Mail offering end-to-end encryption, Proton Calendar a secure day planner and Proton Drive encrypted file storage and sharing.
The Top Free VPN for Netflix
Proton VPN is my recommendation for a free Netflix VPN. The lack of data limits puts it far ahead of the pack. Windscribe is good at unblocking Netflix, but with only 10GB per month, you can't stream to your heart's content. If you choose to pay, the total server network spans over 50 countries, leaving you plenty of choices.
Subscribing to Proton VPN alone, without dipping into Proton Unlimited, comes in three familiar durations: one month at a time for $9.99, 12 months for $71.88 ($5.99 per month) or 24 months for $119.76 ($4.99 per month). Learn more by checking out our in-depth Proton VPN review.
---
Pros
Easy to use
Thousands of servers including streaming servers
Strong encryption
Doesn't keep logs
45-day money-back guarantee
Cons
Cheap only with long-term subscriptions
Streaming Access
Unlike the first four entries on this list, CyberGhost can't get into all streaming services, as it failed to unblock HBO Max and Hulu in my tests — but Netflix never gave me any trouble at all. CyberGhost also boasts an enormous and rapidly growing server network, which currently stands at over 90 countries (rivaled only by ExpressVPN).
Other than the size of its server network, CyberGhost's biggest asset is its user interface, which is designed thoughtfully to fit with any user's needs. One standout feature is the Smart Rules tab, which lets you program the VPN's response to common situations. For example, if you want to binge a Swedish noir, you can have it automatically connect to a server in Stockholm.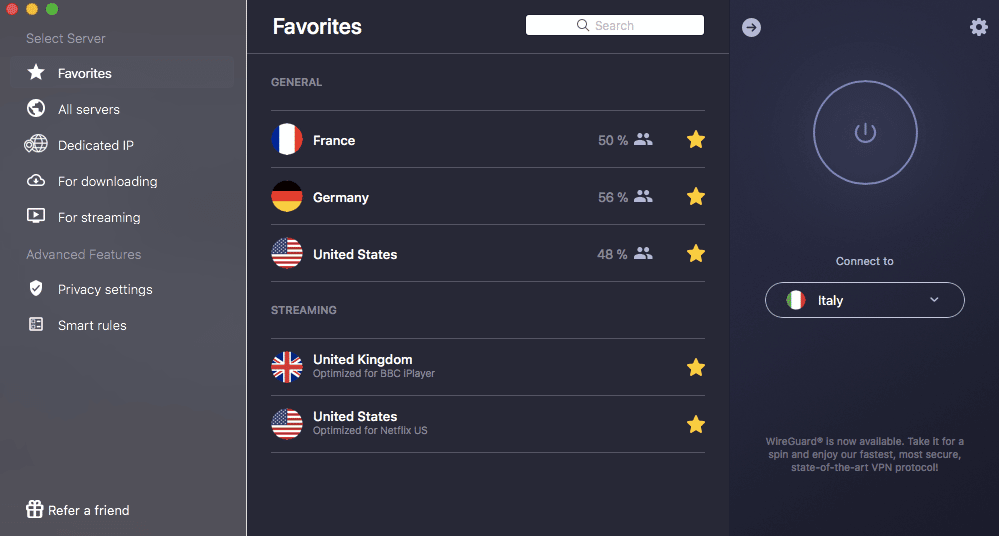 Dedicated Streaming Servers
Like NordVPN and some others, CyberGhost has a range of servers optimized for particular tasks, including streaming. Uniquely, they're optimized for specific platforms this time — so you can use servers designed to access Netflix in particular. These lived up to their promise in my tests, unblocking Netflix at the best rates.
If you'd like to be haunted by CyberGhost, you can get three types of subscription: one month at a time for $12.99, six months for $41.94 ($6.99 per month) or 12 months for $56.94 ($4.75 per month; first subscription comes with 14 free months, coming out to $2.19 per month).
Want to know more before you commit? See our full CyberGhost review. It also offers a 14-day money-back guarantee on the monthly subscription and 30-day money-back guarantees on all other plans.
---
Pros
Affordable plans
Servers in 84 countries
Streaming-optimized servers
Obfuscation with Shadowsocks & SOCKS5
Unblocks Netflix & Hulu
Highly customizable split tunneling
Cons
Desktop app often lags
Uneven download speeds
Can't access HBO Max or Disney+
No live chat customer support
Many countries have only virtual servers
Streaming Access
Private Internet Access (commonly called PIA) is best known as a discount VPN, but its performance defies that classification. It pays attention to security, has a well-written knowledgebase and runs servers in a staggering number of countries. On top of that, it even gets you into Netflix.
Other than the price, the server network is the standout feature here, with PIA having locations in 84 countries. Its app is refreshingly easy to use, with settings organized into clear tabs. That long list of servers is easy to explore. More advanced users will find a surprising amount to toggle here; though not the deepest, you can make the experience your own.
The big issue is download speed. While PIA will let you into Netflix in any of its server locations, the more distant ones slow down your streaming quite a bit. Unless you're starting with extremely fast download speeds, you may be better off with one of the first five options.
Impressively Low Latency
One thing I like about PIA, but that doesn't really relate to Netflix, is its low latencies. Pings remained below 100 milliseconds in all my speed tests, even when I ranged all over the world. That makes PIA a fine VPN choice for any tasks that require constant two-way information flow, especially video chatting and online gaming.
If PIA is your VPN choice, you can choose from one of three subscriptions: one month at a time for $11.95, 12 months for $39.95 ($3.33 per month) or 39 months for $79 ($2.03 per month). We've also got a full article about using PIA to access Netflix that you might find interesting.
---
Pros
Excellent security protocols
Easy setup on every app
Great at unblocking streaming sites
Affordable prices
Exclusive DNS infrastructure
Cons
Slow speeds with faraway servers
Relatively small server network
No anonymous subscription options
No Firefox browser extension
Streaming Access
VyprVPN isn't a service I always recommend to people who mainly use their VPN for Netflix. It's more focused on security, with its Chameleon obfuscation protocol making it a great choice for getting the internet to work in China, Belarus and other countries with technological censorship regimes.
However, just because it takes security seriously, doesn't mean VyprVPN can't party. It has a near-perfect record of unblock streaming services — not just Netflix, but Hulu, Amazon Prime Video, Disney+ and others. It has a somewhat high impact on your download speed, though, and should probably not be used for Netflix libraries on the other side of the world.
Other perks of VyprVPN include its simple pricing structure, its audit-guaranteed privacy policy and VyprDNS, a wholly independent domain name system that makes the whole system practically leak-proof.
The Chameleon Protocol
Other than a great title for an action thriller, the Chameleon Protocol is a proprietary protocol that hides VPN metadata on your connections. This obfuscation means that in addition to your IP address being invisible, nobody can see that you're using a VPN. It's great for getting around technologies like China's Great Firewall.
If you want a secure VPN that can still access Netflix, you can get VyprVPN for one of two prices: one month at a time for $10, or 12 months for $60 ($5 per month). Our full VyprVPN review can tell you more.
---
How to Access Netflix With a VPN
Once you have a Netflix VPN downloaded and installed, streaming Netflix libraries from abroad is simple. All you have to do is connect to a server in the country where you want to check out the Netflix library.
I'll use ExpressVPN as an example, since it's our top-choice VPN for Netflix, but the steps are the same on any provider. Boot up the VPN, but don't quick-connect. Instead, go into the server list.
Choose a server in the country you want to stream from, then connect. Wait until the VPN confirms your connection.
Then navigate to Netflix. Assuming your VPN can get past the geo-block, Netflix should recognize your computer as coming from the country where your chosen VPN server is located, and show you that country's Netflix library.
Then navigate to Netflix. Assuming your VPN can get past the geo-block, Netflix should recognize your computer as coming from the country where your chosen VPN server is located, and show you that country's Netflix library.
Watch to your heart's content! Don't forget to disconnect from the VPN server when you're done, because remote locations tend to increase your latency. Unless you need a specific location, you'll get better performance from a server closer to home.
---
What Is the Best Free VPN for Streaming Netflix?
It's absolutely possible to get a VPN for streaming Netflix without paying a dime. However, to borrow the words of approximately 10 billion dads writing Amazon reviews, "you get what you pay for." For reasons I'll explain below, not only is the average quality of free VPNs markedly lower, but some of them pose active security risks.
Not all free providers are bad, though. Some of them are well-built and trustworthy. Proton VPN is my favorite free option for Netflix because there's no traffic limit. High-definition streaming can use up a whole gigabyte per hour, so if you watch an average amount of TV, you'll chew through a monthly limit pretty quickly.
Windscribe is also a good choice. Though it does come with a 10GB monthly limit, that's enough for some streaming needs. It has free servers in 10 countries, blowing Proton VPN's three options out of the water. Two other fair options are TunnelBear and hide.me.
Free VPNs vs Paid VPNs
The four services I named above — Proton VPN, Windscribe, TunnelBear, and Hide.me — have at least one thing in common: they fund their free service by charging fees for a premium subscription. This is how the scrupulous kind of free VPN operates.
The unscrupulous kind of free VPN provider is free because it logs your browsing history and sells it to advertisers, who use it to target ads. You know how ads sometimes seem to read your mind? It's because of dossiers collected through shady practices just like this.
This not only means that some free VPNs are actively working against your privacy, but also means they're unlikely to be made with a lot of thought. Slapped-together interfaces, tiny VPN server networks, outdated protocols and massive lags are the norm.
On the other hand, the best free VPNs often withhold features and limit access, so users have a reason to pay up. With those two choices, subscribing to an affordable paid VPN service is often quite a bit easier.
---
Why Netflix Has Regional Restrictions
At this point, you may be wondering why Netflix has different shows and movies in different countries. Why can't it just be the same everywhere?
The big problem is international copyright law — specifically, the fact that it doesn't exist. There is no international treaty that deals with intellectual property. If Netflix wants the rights to broadcast a series it doesn't own, it needs to get those rights in each individual territory.
It's unlikely to get them everywhere, especially if another service outbids Netflix. In the U.S., where Netflix competes with several other streaming powerhouses, it's lost out on the rights to Rick and Morty, Friends, The Office, Twin Peaks and It's Always Sunny In Philadelphia (and that's not the full list).
However, using a VPN for Netflix can make you appear as though you're watching from a country where it does have the rights. This means that if you did happen to be in the United States, and used a VPN to watch Friends on Canadian Netflix, then Netflix has technically violated the law by showing you Friends without permission from the American rights-holder.
The Netflix VPN ban is about avoiding that legal liability. You'll get an error message if it detects you're using any sort of proxy, and won't be able to log on until you disconnect from the VPN first. If it can't detect you, though, you'll be able to watch as normal.
---
Why Do Some VPNs Work When Others Don't?
Netflix blocks VPN services by learning which IP addresses are associated with VPN servers and banning those addresses. The main reason many VPN services can't unblock Netflix is that they can't maintain servers with IP addresses Netflix hasn't flagged.
The best VPNs for Netflix stay ahead of the game by cycling their IP addresses, but even they can't win every round. Even the best Netflix VPNs will sometimes get the proxy error. If that's happened to you, you'll likely see only shows that Netflix has global rights to show anywhere.
---
What Do I Do If Netflix Blocks My VPN?
If Netflix blocks your VPN, first, don't panic! You can still get your Canadian sci-fi fix tonight. All you need to do is switch to another server in the same location. The Netflix VPN services on this list let you choose between several servers in each country, so just navigate to the server list and click on one you haven't tried yet.
If you try them all and none of them stream Netflix, there's still hope: try a different protocol. You can change this in the VPN's preferences section. Try each protocol in turn, including both transport protocols (TCP and UDP), but don't let the VPN pick for you — it might choose one that already hasn't worked.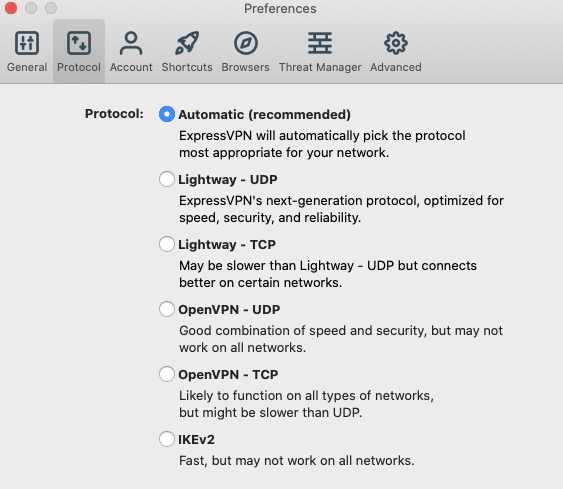 If that still doesn't work, see if there's another location in the same country (most VPNs have lots of servers in the United States, for example). If not, you may have to pick a different location to stream from for now, or try another VPN. However, my tests indicate that if you go with a VPN from this list, it should work for you the first time.
Almost every VPN has a money-back guarantee or free VPN trial you can use to test it. Before you select a VPN service, even from this list, I strongly suggest you give it a shot and see if it can get you into Netflix. It's always better to know for sure, while you can still get your money refunded.
---
Check Out Other Steaming VPN Guides
---
Conclusion: Netflix VPNs
Last year, like all reasonable people, I was fired up for Eurovision. Since I live in the United States, I couldn't easily stream it without jumping through a lot of hoops. Instead of doing that, I booted up ExpressVPN, connected to a server in Ireland, and was watching Netflix and jamming out within a minute.
Everyone wants the same thing when they sit down to an evening of streaming: maximum enjoyment, minimal fiddling with devices. The VPN services on this list — especially our top picks, ExpressVPN, NordVPN and Surfshark — will get you there fast, whether your poison is obscure Netflix libraries, campy song contests or something else.
I want to hear about your own experiences with using VPNs to get around geoblocks, especially to watch Netflix. What works? What doesn't? What shortcuts and workarounds do you use? Let me know in the comments, and thanks for reading!