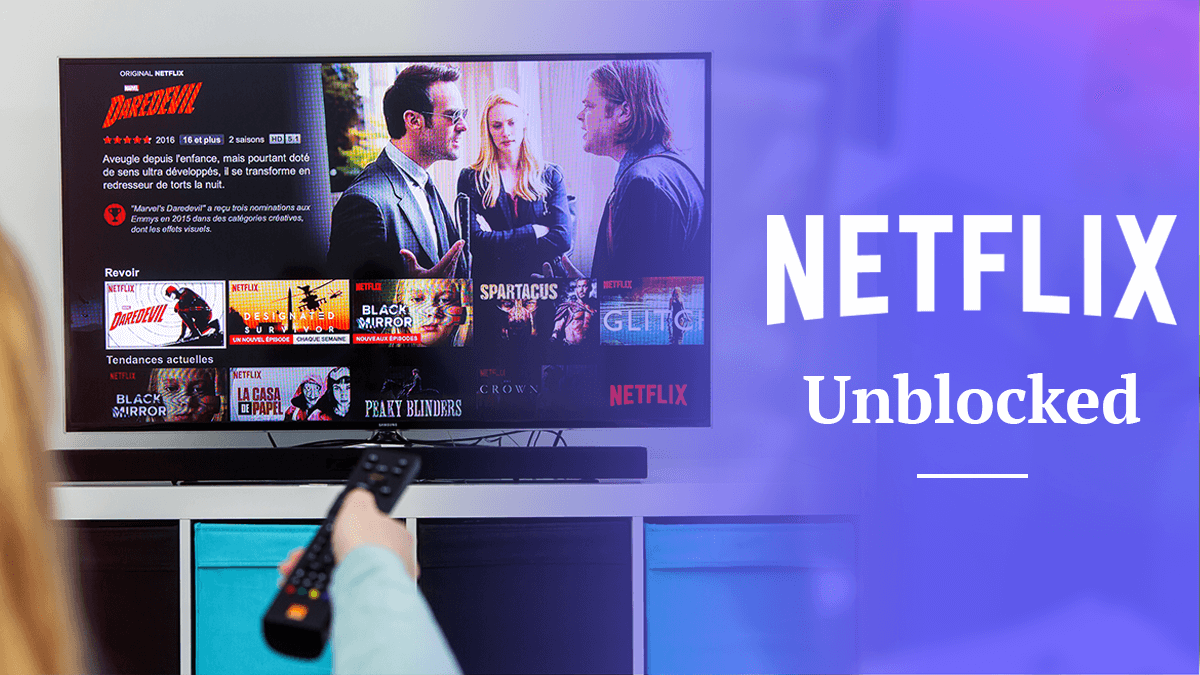 Netflix Unblocked: How to Watch Netflix From Anywhere in 2023
All you have to do is find a good streaming VPN and connect to any server. My favorite is ExpressVPN, which unblocks Netflix every time — try it out free with a 30-day money-back guarantee.
Netflix is one of the most popular streaming services available. More than 190 countries can tune in to Netflix, and it's pretty much the go-to in my house. Still, although Netflix is widely available, it's often blocked in schools, workplaces and so on — and that's probably why you're reading this.
So, want to know how to watch Netflix at school or work? In this article, I'll show you how to get Netflix unblocked easily with a good VPN for streaming. I recommend you use ExpressVPN as the best VPN for Netflix, which I've used in the step-by-step below. It has great features, such as fast speeds and strong security, and it also comes with a 30-day money-back guarantee.
Best VPN to unblock Netflix
Can I unblock Netflix from anywhere?

Yes, by using a VPN, you'll be able to connect to a VPN server outside of your network and access Netflix even if it's blocked on your school or work's network.

Can I use a free VPN to unblock Netflix?

Using a free VPN provider to unblock Netflix isn't a good idea. Many free VPNs can't get past the Netflix proxy error. Plus,

free VPNs for Netflix

can have slow speeds and data limits, so they won't be a good choice for streaming in general.

Why does Netflix restrict content?

Netflix is bound by license and copyright restrictions. It is only allowed to show content in certain regions, so it puts georestrictions in place to avoid breaching its contracts.

Is it legal to use a VPN with Netflix?

It is legal to use a VPN with Netflix, but Netflix frowns upon it because of its licensing and copyright agreements. Using a VPN to access Netflix libraries around the world goes against its terms of service, so your account could be terminated — it's unlikely, though.
---
Step by Step: How to Unblock Netflix
Sign up with ExpressVPN and download and install the app for your device. Once it's installed, open the app and log in.
2. Connect to a suitable server
Find and connect to a suitable server. Remember that each region has its own Netflix library, so you need to pick a server in the country you want to access.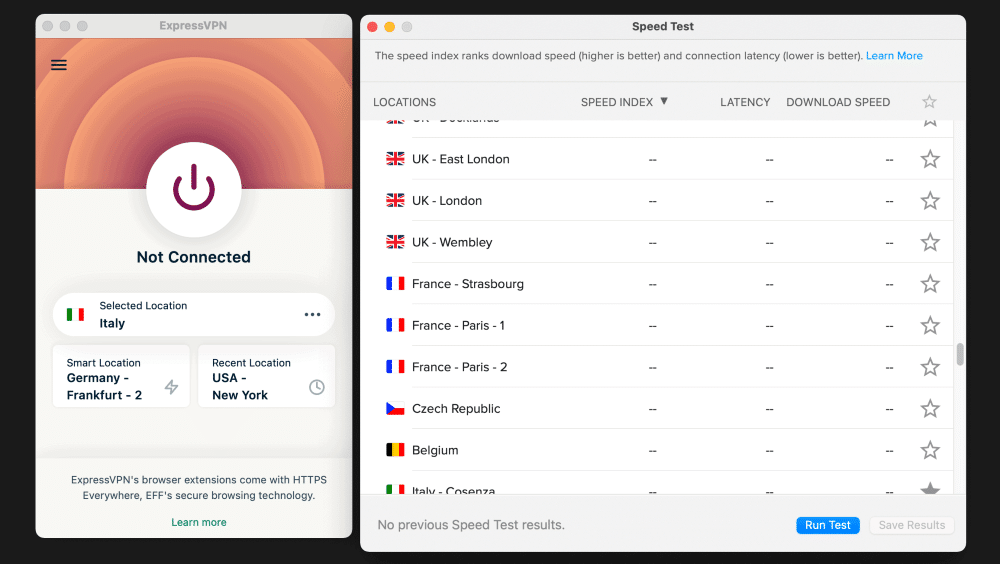 3. Access Netflix
Once you're connected to a VPN server, go to Netflix and see if you can access it. Log in to your Netflix account, and watch what you want. If Netflix isn't unblocked, connect to a different server and try again.
---
Watch Netflix at School
Schools can block a lot of entertainment websites or services, apps, games and even social media. The main reason behind that is to stop students from being distracted.
Picture this, you're tucked away at the back of the class, bored out of your mind, and you think "hmm, maybe I'll just have a quick blast on Minecraft." Then your teacher asks you a question and you look like a deer in the headlights because you weren't listening.
Now, unless your class is super laid back or you're a master of stealth, I doubt you'll be able to get away with watching an episode of Stranger Things on Netflix during class. However, it is something that you could do during break. That is, if the school hasn't blocked it.
You see, although Netflix might not be an attention-span killer, it can certainly kill off the school's bandwidth. Yup, that's right, watching Netflix shows or movies in HD can use about 3GB of data per hour.
Now, multiply that by the number of students tuning in and it's going to look like Pac-Man's new favorite snack is data — not to mention, it'll seem like a sloth is manning the internet. That's why schools, colleges and the like just completely block Netflix — along with other services, too. By using a VPN, you'll be able to access what you want, when you want. It's that simple.
---
Watch Netflix at Work
For those of you trying to unblock Netflix from work, I'm sorry to say, but it's blocked for pretty much the same reasons that schools block it. It's Always Sunny in Philadelphia might be playing, but it's not going to be sunny in your workplace once the boss finds out what you're doing.
Many workplaces block streaming services, games, certain websites and anything else that might be distracting for workers. After all, you're not getting paid to sit there and watch your favorite shows and movies, right? (If you are, do you think you could get me in there?)
Plus, there's the issue of Netflix being bandwidth hungry and the fact that it could slow the network down, which could then affect productivity.
Like with students, though, you might want to catch up on an episode during your lunch break. But the restrictions are there to stay, so the only way you can get Netflix unblocked is to bypass them with a VPN.
---
How Does a VPN Help Unblock Netflix?
A virtual private network is a clever tool. When you use one, you only use the school's or workplace's network to connect you to the VPN server you choose. Once connected, everything you do online will be through the VPN's server. Your connection is routed through an encrypted tunnel, which also hides your true IP address.
So, once you connect to a server outside of your school or workplace, you can get into Netflix as usual. Your true location is hidden, so Netflix is unblocked.
This also works for travelers abroad who want to access their home country's Netflix library, or anyone wanting to access different Netflix content, such as streaming American Netflix in Canada. It can also be used in a country where Netflix isn't available at all, such as China or North Korea. Subscribers can simply connect to a server in a specific country and access Netflix as if they are physically there.
Plus, although your main objective for using the VPN is to unblock Netflix, a VPN will also keep you safe with its in-built security and privacy, making sure your personal information is protected.
---
What Makes the Best Netflix VPN for School or Work?
A VPN is your answer for accessing Netflix at school or work, but you can't just choose the first VPN provider you see. For one, Netflix has a pretty sophisticated VPN detector, so the VPN will need to be able to sneak past the dreaded Netflix proxy error code: m7111-5059. After that, there are a few features that will make your streaming experience all the better, so let's go through them.
Servers
Having a large number of servers to choose from will give you a better chance of finding one that will work with Netflix. If Netflix knows an IP address has come from an unblocking tool, it'll note that thing down like it's making some sort of hit list. Basically, you'll be hit with the Netflix error code and will need to try a different server.
Speeds
Fast and reliable speeds are also important, so it's best to choose the fastest VPN. Otherwise, you could end up with a very spotty streaming experience and constant loading or buffering screens, which is no fun. If you want to watch a show during lunch, you want that thing to load NOW — not when you're about to go back to class.
Security & Privacy
Online security and privacy should also be high on your feature list. Although it's not going to help you get into Netflix, it will help ensure you stay protected while you're doing so, especially when you're connected to a public network.
Strong encryption will protect you from all sorts of cybercrime, such as hackers. Privacy is a little different, though, and it's implemented through a no-logs policy, which basically means that records of your online activities aren't kept.
---
The Best VPNs for School or Work
Now that I've talked about the "how" and "why" of needing a VPN to access Netflix at school or your job, let's go over my top suggestions for the best VPNs that will get you to the promised land.
Pros
Extremely fast & easy to use
Servers in 94 countries
Kill switch, split tunneling & no logs
Unblocks all major streaming services
Excellent security record
Cons
Expensive
Uses some virtual servers
ExpressVPN is my favorite VPN for school or work, and it makes getting into Netflix effortless. There are thousands of servers to choose from in 94 countries and it comes with unlimited bandwidth. It also has fast speeds across the network. Your connection will be safe, too, with ExpressVPN's top security and strict no-logs policy. Plus it has servers in a wider selection of countries than its competition (like NordVPN, our number two VPN for this list).
That said, ExpressVPN is expensive compared to its competitors. The monthly plan is average, but its 12-month plan only shaves off a little of the cost. It's worth the price, though, and there's also a 30-day money-back guarantee if you don't like it.
Check out ExpressVPN's pricing here or read the full ExpressVPN review.
2. NordVPN
Pros
Easy to operate
Unblocks every major streaming service
Great savings on one- & two-year plans
Includes a kill switch & ad blocker
Strict no-logs policy
Cons
Suffered a security breach in the past
Split tunneling isn't available on all OSes
I can also easily recommend using NordVPN for unblocking Netflix at school or work because it can bypass the Netflix error code easily. Plus, it has a massive network of servers all over the globe, so there are plenty to choose from. It also has fast and stable speeds, as well as no data caps to keep track of.
NordVPN is super easy to use and you can connect to a server using its map-style interface — and that goes for whether you're on a desktop or mobile device. It comes with 256-bit encryption as standard, which will keep you protected, and it also has a strict no-logs policy. However, it lands in second place because its servers can be a bit less consistent than ExpressVPN's.
Although NordVPN's monthly cost is pretty high, you can save some money by opting for a longer subscription. There's also a 30-day money-back guarantee, in case you don't like it.
Check out NordVPN's pricing here or read the full NordVPN review.
3. Surfshark
Pros
Very good price-performance ratio
High security level
Netflix-compatible
Unlimited simultaneous connections
Great support with live chat
Cons
No information on individual servers
Can have issues establishing a connection
You can also use Surfshark to get access to Netflix at work or school. It has a decent number of servers and some of those are in countries that other VPN providers don't cover. That said, you may need to hop between servers until you find one that's suitable for unblocking Netflix. It comes with unlimited bandwidth, and although its streaming speeds aren't quite as good as my other recommendations, it should be fine.
Surfshark is easy to use and will keep you safe with its strong security and no-logs policy. Surfshark's monthly cost is pretty much the same as ExpressVPN, but its longer plans are where the savings are. Its two-year subscription is super cheap, but you're still covered by a 30-day money-back guarantee in case you change your mind.
Check out Surfshark's pricing here or read the full Surfshark review.
---
Conclusion
Finding out you're blocked from Netflix at school or work is super annoying, but you can easily get Netflix unblocked with the help of a VPN. Just make sure that the VPN provider can actually get past Netflix's virtual security guards first.
I recommend using ExpressVPN as a Netflix VPN because it's easy to use and it'll get into Netflix quickly. Its fast speeds will mean you're not waiting your entire lunch break for a TV show or movie to load, and its unlimited data means you can watch or download as much as you like. Why not give it a try? You've got 30 days to ask for a refund.
Have you ever been blocked from accessing Netflix at school or work? How did you bypass the block? Let me know in the comment section. Thank you for reading.