What Is Netflix Proxy Error Code m7111-5059? A 2023 Guide
This Netflix proxy error means Netflix has detected that you're using a VPN, proxy or other unblocking or privacy tool. To avoid seeing this, make sure you're using a good Netflix VPN — like ExpressVPN, which you can try out with a 30-day money-back guarantee.
So, you've got your popcorn ready and you're just about to watch a movie when Netflix slams the brakes on. You're using a virtual private network service or other unblocking tool, and Netflix knows it. The Netflix error code m7111-5059 is something that many people come across if they're using a VPN, proxy or other unblocking software to access another country's Netflix library. But how can you get around it?
In this article, I'll explain what the Netflix error code is and how to deal with it with a good VPN for streaming Netflix. But, if you're after a quick answer so your popcorn stays warm, you should download and install ExpressVPN as the best VPN for Netflix. It'll unblock Netflix easily, and keep you safe, too.
Why Does Netflix Block VPNs?

Netflix blocks VPNs and other unblockers to try and stop people from watching Netflix content that's not available in their country. Although many countries' Netflix libraries include the same content, there are some differences due to copyright laws and studio contracts that Netflix has to abide by.

Is It Illegal to Change Your IP Address for Netflix?

It's not illegal to change your IP address to watch Netflix in another country. However, it does go against Netflix's terms of service, so Netflix has the right to terminate your subscription if it finds out.

Can I Use a Proxy Instead of a VPN to Bypass Error Code m7111-5059?

In short, no. Using a proxy won't allow you to get past the Netflix proxy error. The best way to bypass streaming error code: m7111-5059 is to use a VPN service, such as NordVPN.
---
What Is Netflix Proxy Error Code: m7111-1331-5059?
The Netflix error code pops up whenever Netflix detects that someone is using a VPN, proxy or other unblocking or privacy tool. It usually displays error code m7111-1331-5059 or m7111-5059, along with "you seem to be using an unblocker or proxy."
You might be using a privacy tool to keep you safe online, or you could be doing what many people do (*cough* including me *cough*) — using a VPN or proxy to access region-restricted content. Lots of people do that, and not just with Netflix. People use unblockers to access BBC iPlayer, Amazon Prime Video and other streaming services, too.
Either way, it's likely that the IP address you've been assigned to hide your true IP address has been identified by Netflix. Plus, such services hide your region, so Netflix can't tell which region you're supposed to be able to access — so it just blocks you all together.
You might be wondering why you can't watch whatever Netflix has on its system, and the answer to that is simple — Netflix is bound by global copyright agreements and studio contracts. It can't show a movie or TV show in a region unless it's been given the go-ahead.
The best solution to getting past Netflix's blocker is to use a VPN. But you can't just pick any VPN. It needs to be one that's capable of fooling Netflix, and not many are able to. ExpressVPN is the best choice. It can unblock Netflix no problem and you'll benefit from many other features, too. ExpressVPN is also a good option for getting into Netflix. Both have a 30-day refund window if you're not satisfied.
---
5 Steps to Fix Netflix Proxy Error Code m7111-5059
Choose a VPN that can bypass the Netflix proxy error
Install the VPN on your chosen device
Launch the VPN and sign in
Connect to a server in the same country as the Netflix library you want to watch
Launch Netflix and watch what you want
---
VPN Features for Bypassing the Netflix Proxy Error
In this section, I'll list the most important features for a VPN that can bypass Netflix's geoblocks. I'll then list my top five VPNs that have those features.
Lots of Servers Across the Globe
There are two reasons why having lots of servers to choose from is important: if one server doesn't work, you can try another, and having servers in various countries means you can access lots of different Netflix libraries. Pfft, I mean, why do other countries get to watch Rick and Morty?
You see, Netflix is available in more than 190 countries, and although many of those countries are able to watch the same movies and TV shows, lots of Netflix content is specific to certain countries due to licensing restrictions, or culture and language differences. With a wide range of servers, you could bunny-hop into different Netflix libraries whenever you want.
No Data Caps or Bandwidth Restrictions
This feature is more important than you may realize. I mean, imagine finally getting to watch that movie you've been dying to see, and then you see something like "data limit reached!" That's enough to make me spit my popcorn out and ruin my evening.
Seriously, though, when you choose a VPN, it shouldn't have a data cap or bandwidth limit — whichever terminology it uses. Having no data limit means exactly that — there's no limit to how much you can watch or download.
Fast and Reliable Speeds
When it comes to any kind of streaming, it's important to have fast and reliable speeds. That'll ensure you're not interrupted by annoying buffering or loading screens at any edge-of-your-seat moments.
Strong Encryption and a Strict No-Logs Policy
Although streaming Netflix might be at the forefront of your mind, a VPN will protect you while you are streaming. To ensure that you are properly protected, you should make sure that the VPN includes certain features, such as strong security — 256-bit encryption is best — a kill switch and a no-logs policy.
The no-logs policy ensures that anything and everything you do online is kept secret. These together are your safety net for everything bad online and help you stay anonymous.
---
Best VPNs to Bypass Netflix Error m7111-5059
Here are the top five VPN services that can get into Netflix without a hitch. Each one includes the features mentioned in the last section, but they may differ in some areas, so pick the one that suits you best.
1. ExpressVPN
Pros
Extremely fast & easy to use
Servers in 94 countries
Kill switch, split tunneling & no logs
Unblocks all major streaming services
Excellent security record
Cons
Expensive
Uses some virtual servers
ExpressVPN is my favorite VPN, and getting into Netflix with it is a piece of cake. ExpressVPN has servers in 94 countries, which is a wider range than NordVPN — our number-two pick — though ExpressVPN's total number of servers is fewer. Still, it can access Netflix easily, and it doesn't have a bandwidth cap.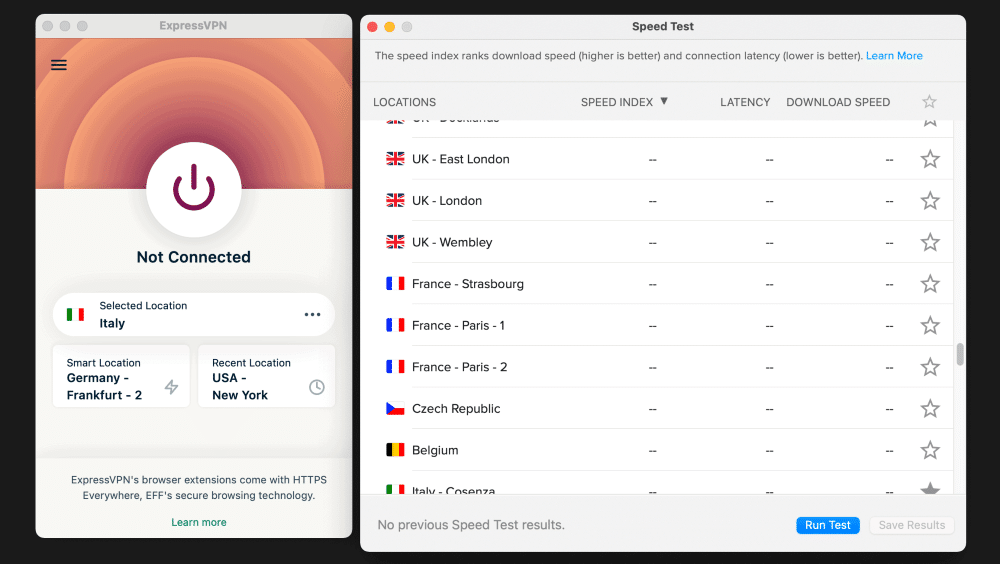 It also has great security and privacy, and fast speeds. Using ExpressVPN is a breeze — I actually forget the VPN is on when I'm using it (unlike some other VPNs that might have slower speeds).
Unfortunately, the biggest issue with ExpressVPN is its cost — I can hear my wallet growling at me just thinking about it. But if you're looking for the best VPN, well, this is it. If you're feeling a bit nervous about the price tag, ExpressVPN also has a 30-day money-back guarantee, and I've never had any issues with it.
Check out ExpressVPN pricing here or read the full ExpressVPN review and ExpressVPN price guide.
2. NordVPN
Pros
Easy to operate
Unblocks every major streaming service
Great savings on one- & two-year plans
Includes a kill switch & ad blocker
Strict no-logs policy
Cons
Suffered a security breach in the past
Split tunneling isn't available on all OSes
NordVPN is my second favorite VPN, and getting into Netflix with it is also a piece of cake, just like ExpressVPN. It's capable of not being detected by Netflix's VPN radar, and with thousands of servers located across the globe, you can simply switch to another server if there is a problem. Its map-style interface makes the task easy, too.
There's no bandwidth limit to worry about — yes, you can watch your favorite show over and over again — and it has fast speeds. You'll also benefit from NordVPN's 256-bit encryption and strict no-logs policy while connected, and although its monthly cost isn't great, NordVPN's two-year plan is super cheap. Plus, if you don't like it, there's a 30-day refund window.
Check out NordVPN pricing here or read the full NordVPN review and NordVPN price guide.
3. Surfshark
Pros
Very good price-performance ratio
High security level
Netflix-compatible
Unlimited simultaneous connections
Great support with live chat
Cons
No information on individual servers
Can have issues establishing a connection
Surfshark is an impressive VPN, especially since it's one of the newest services available. It can unblock Netflix easily, though you may need to try a few different servers before you get in. It does have a large number of servers, though, so that shouldn't be an issue, and some of them cover areas that other VPNs don't.
It's also easy to use, has no data caps and allows unlimited simultaneous connections. It'll also keep you protected with good security and privacy. That said, although Surshark is mostly fast, its streaming speeds don't quite match those of ExpressVPN or NordVPN.
Surfshark's monthly plan mirrors the cost of ExpressVPN, but its two-year plan beats even NordVPN. So if you're looking for a cheap VPN with all the bells and whistles — and don't mind switching servers or slightly slower streaming speeds — then Surfshark could be your answer. You can make use of the 30-day money-back guarantee, though, if you don't like it.
Check out Surfshark pricing here or read the full Surfshark review.
4. CyberGhost
Pros
Easy to use
Thousands of servers including streaming servers
Strong encryption
Doesn't keep logs
45-day money-back guarantee
Cons
Cheap only with long-term subscriptions
CyberGhost has one of the largest — if not the largest — server networks available. Although it can have trouble getting into other streaming services, accessing Netflix isn't an issue. Plus, CyberGhost neatly organizes its servers into specific categories, such as gaming, torrenting and streaming. That makes it super easy to find a suitable VPN server, and you can narrow the list further by searching for a specific country.
Still, despite it having a great server system, there are a few areas that let it down. CyberGhost is fast, but there are some locations that have much slower speeds. Plus, although CyberGhost implements high security and privacy, once you look up its parent company, you might raise some questions — or eyebrows.
If you want an easy-to-use VPN that's not going to break the bank and has no data caps, then CyberGhost is still a good option. You could even take it for a spin with its free trial or take advantage of its long money-back guarantee — 14 days on the monthly plan or 45 days on longer plans.
Check out CyberGhost pricing here or read the full CyberGhost review.
5. Private Internet Access
Pros
Affordable plans
Servers in 84 countries
Streaming-optimized servers
Obfuscation with Shadowsocks & SOCKS5
Unblocks Netflix & Hulu
Highly customizable split tunneling
Cons
Desktop app often lags
Uneven download speeds
Can't access HBO Max or Disney+
No live chat customer support
Many countries have only virtual servers
Private Internet Access can't access all of the major streaming services, but it can take on Netflix easily without a hint of a proxy error. The reason I've listed it last, though, is its inconsistent speeds. It can be a fast VPN, but it varies by location and just doesn't have the reliability of the other VPNs.
Still, it has a large number of servers in plenty of locations, and there are no bandwidth caps. It's also secure and has a strict no-logs policy. Add to that its super-cheap two-year plan, and you've got yourself an inexpensive Netflix go-getter.
Check out PIA pricing here.
---
What's the Best Free VPN to Bypass Netflix Error Code m7111-5059?
Ahh, free VPN software gives VPN users the same feels as an ice-cream truck in the distance, but it shouldn't. Now, before you come at me with your sprinkles, hear me out.
There are lots of free VPNs available. They're literally jumping out of app stores and search engines nowadays like "Me! Me! Pick me!" Although I can't speak for every free VPN out there, many of them should be avoided like the plague.
The best thing most of those VPNs have going for them is that they're free — that's it. But while you may not be paying for them with your hard-earned ice cream money, you'll pay in other ways, like with your data. There are some reputable free VPNs out there, but even then you could be stuck with slow speeds or a limited server network — and they probably can't access Netflix.
If you absolutely need a free VPN, then we recommend using Windscribe. It has a totally free plan available, but you'll only have access to about 10 free servers and there is a data cap. Alternatively, you could opt for CyberGhost's free trial, or try ExpressVPN's money-back guarantee for peace of mind.
---
Conclusion
The Netflix proxy error code: m7111-5059 occurs when you're connecting via a VPN or other privacy/unblocking tool that isn't capable of staying undetected. Netflix won't let you watch anything until you've solved the issue so that it doesn't breach any copyright agreements or contracts it has.
It's annoying, but you can get around it by using a suitable VPN, and the best VPN service for unblocking Netflix is ExpressVPN. It'll get into Netflix like a knife through butter. You'll also be able to hop between different countries' Netflix libraries with ExpressVPN's huge list of server locations. Plus, you'll benefit from fast speeds and no data caps.
ExpressVPN comes with a 30-day refund window, too, so it's risk-free. Aside from getting into Netflix, ExpressVPN will also keep you protected from online dangers and ensure your online activity stays private.
Have you ever come across the Netflix M7111-5059 error while using an unblocker? Did you use an online privacy tool to get around it? Let me know in the comment section. Thank you for reading.