How to Change Netflix Region Locations in 2023
Download a VPN and connect to a server in the region with the Netflix library you want. ExpressVPN is my favorite VPN for Netflix — try it out with the 30-day money-back guarantee.
Why, Netflix, why? I pay you every month for a subscription and I still can't watch Harry Potter, even though people in Turkey can. All those hours we spent together binging The Office while I was doing my bachelor's, and now I can't even indulge in some magic hijinx without packing my bags and moving to Istanbul… I feel a little betrayed, honestly.
You've probably experienced this as well. In fact, Netflix has a ton of content that the streaming service hides from you, simply because you're in the wrong country. I mean, I get it, there's licensing fees to pay, but I still can't help but feel it's a little unfair.
Luckily, you don't actually have to zoom to a different country on a broom to change Netflix region locations and access its library. The magic comes all from a virtual private network, or a VPN.
A trusted VPN service like ExpressVPN (my personal top choice) will let you change your Netflix region locations quickly and easily. A VPN spoofs your location, so it appears as though you're somewhere else. This means you can pretend to be in the UK, so you can watch Peppa Pig, even though you're just an adult in New Jersey with a refined taste for British-accented kids shows.
This isn't limited to Netflix either; you'll also have access to other popular streaming sites like Amazon Prime Video, BBC iPlayer, Hulu and much more. So, read on to find out which is the best VPN for streaming that will allow you to change your Netflix region without causing a pesky proxy error to pop up and ruin your movie night.
Is it legal to change Netflix regions?

Yes, it's legal to change Netflix regions to access restricted content. Even though you technically aren't supposed to, no one has gotten into trouble for it.

How do I change my Netflix region without VPN services?

Changing your Netflix region without using a VPN is possible with a proxy. A proxy will effectively mask your IP address and location, but it won't give the same security protection a trusted VPN will.

Which country has the best Netflix content in 2021?

Currently, Netflix U.S has the most extensive Netflix library available, with roughly 5,600 titles. This is closely followed by Canada, which has approximately 5,500 shows and movies available.
---
How to Change Netflix Region Locations in Three Easy Steps
I'll use ExpressVPN as an example to help guide you through the process of how you can change Netflix region locations. It's surprisingly simple: just three little steps and you're done!
1. Download and Install One of the Recommended VPNs for Netflix
First, you'll need to download ExpressVPN (or whatever VPN you want to use) from the official website. You can also use the App Store or Play Store if you're downloading it on your mobile device or smart TV. Next, simply enter your personal login details and you're in!
2. Connect to a Server in Your Selected Country
Here comes the most important part. Once everything is nicely set up, all you need to do is pick the location you want to have as your Netflix region. For example, if you're going to stream a show exclusive to the U.S., like Arrested Development, choose a U.S. server and click "connect."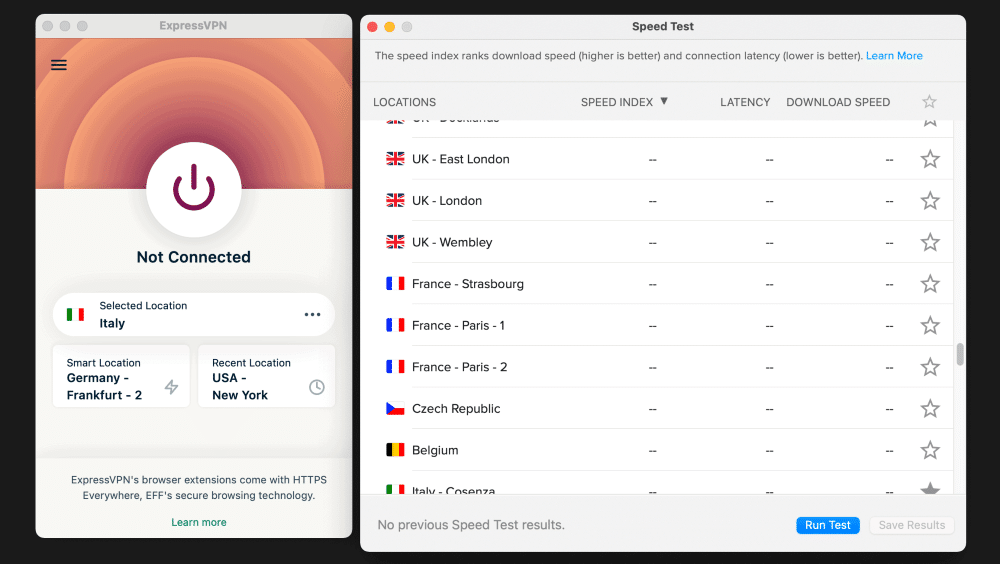 3. Navigate to the Netflix Website and Log in to Your Account
Now that you've updated your region, it's time to access your Netflix account and see if it works. Navigate to the Netflix website or app as usual and enter your credentials to access your account. Once you're in, you should have access to all of the region-specific shows. Happy streaming!
If You See the Proxy Error Code
If you come across the proxy error code m7111-5059, don't panic! Simply exit Netflix and change the server to a different one; it can be in a different country or another server in the same one.
For example, if you're trying to watch Japanese Netflix and it doesn't work, try connecting to a different server in Japan. However, most of the time, you should be fine without switching servers.
---
What Makes a VPN Good for Watching Netflix in Other Regions?
There are a couple of things to look out for when choosing a VPN for Netflix. While the ability to bypass geoblocks is the most desired feature, there are other things to consider, which I've outlined below.
Large selection of server locations: The more server locations a VPN provider has, the wider variety of IP addresses, which means you can watch Netflix successfully in many regions.
Fast and reliable service: I know I wouldn't enjoy staring at a buffering screen during a movie night. A premium VPN service won't just come with a large server network, but it will also be fast, guaranteeing a smoother performance.
Strong encryption and additional security features: Security is a must. Strong encryption will guarantee your data is kept far away from prying eyes. You should also look for other security features, like a kill switch and split tunneling.
Strict no-logs policy: A trustworthy VPN service won't log your data. Therefore, a strict no-logs policy assures you that the provider won't keep or pass on any of your private data, no matter what.
---
The Best VPNs to Change Your Netflix Region
When it comes to changing your Netflix region to stream your favorite shows and movies, I know three VPNs that will get the job done. I especially like these providers because they offer a 30-day money-back guarantee to try out the service before committing to it.
1. ExpressVPN
Pros
Very fast
Secure
Plenty of servers
Can access all main streaming platforms
30-day money-back guarantee
ExpressVPN is the clear front-runner for many reasons. It is the fastest VPN service in our top three and comes with a ton of useful features. Plus, its connection is stable and speedy across longer distances; not only is it fast enough to let you watch your favorite TV shows and movies in HD or 4K quality, but it offers up to 3,000 servers in 94 countries.
Plus, ExpressVPN comes with a strict no-logs policy, which guarantees that none of your personal information can be given to authorities or sold to anyone. It also comes with all sorts of security features, including a kill switch and DNS leak protection.
The one downside is that ExpressVPN knows it's the best VPN out there and isn't afraid to charge for it. ExpressVPN's monthly plan is pretty costly — at around $12.95 — but its longer term plans are much better, especially the annual plan that costs $99.95, plus three free months on top. There's also a 30-day money-back guarantee in case you get cold feet after buying a subscription. Read the full ExpressVPN review to learn more.
2. NordVPN
Pros
Unblocks all popular streaming sites
Large server network
Highly secure
Reliable 30-day money-back guarantee
User-friendly
Cons
Can't pay with PayPal
Monthly plan is costly
In second place we have NordVPN, which is another great VPN that comes in at a more affordable price than ExpressVPN. I find it very effective for streaming Netflix, and I've never had any issues with changing Netflix regions when using NordVPN. It's easy to use, thanks to its simple interface. It comes with an impressive server network, with nearly 5,700 servers, so you can find the show you want.
With NordVPN, you have unlimited bandwidth and no data caps while you binge-watch your favorite shows. It's pretty fast, too, so you can expect a decent viewing experience. You can also rest assured that your online privacy remains secure since it uses a strong AES 256-bit encryption that keeps your data safe.
Other security features include split tunneling and a kill switch, the latter of which cuts off your internet when it detects an issue with the VPN connection. Split tunneling allows you to route some of your device traffic through the VPN tunnel while keeping other apps or devices connected directly to the internet — ideal when using sensitive apps like internet banking.
Best of all, NordVPN offers a 30-day money-back guarantee, which I have tested myself. It's easy to contact support via live chat, and it won't keep you waiting too long. As for the price, its monthly plan is a little high at around $11.95. It redeems itself with its affordable long-term plans — especially the two-year plan at $89.00 — making it a great option if you're in it for the long haul. Read the complete NordVPN review to learn more.
3. Surfshark
Pros
Can access major streaming platforms
30-day money-back guarantee
Unlimited simultaneous connections
Large server network
Seven-day free trial
Cons
Inconsistent streaming speeds
Lastly, we have Surfshark VPN. Even though it's in third place, Surfshark is a great VPN, considering it's only been around for a few years. It can easily unblock Netflix in different countries and access restricted content. The only downside is that its connection speeds are slightly inconsistent, so you may need to fiddle around with servers a bit to find the fastest one.
Speaking of servers, Surfshark provides almost 3,200 servers in 65 countries, which is quite a lot for a new VPN service. It comes with solid security and privacy policy and includes features like the kill switch and split tunneling.
Regarding the pricing, Surfshark is a very affordable VPN, even if its monthly plan is costly. Its best deal right now is the two-year plan, which amounts to $59.76 — way cheaper than the other two providers. Plus, there is a 30-day money-back guarantee, so you can test out all the features before committing to it. Learn more in the comprehensive Surfshark review.
---
Best Free VPN to Access Netflix in Other Countries
A free VPN service may look enticing, but you should be aware of the dangers of using a provider that seems too good to be true. Some free VPNs have the potential to either infect your device with malware or log your personal information, which they could sell to other companies for profit. This is too much of a risk to take for a night of procrastinating.
Usually, free VPNs don't even work correctly, and there is no guarantee that you'll be able to stream Netflix at all. In fact, when my friends ask me for a free VPN recommendation, I only ever recommend a few services, the top suggestion being Windscribe.
More ways how to watch American Netflix
Windscribe offers a free plan with 10GB per month and access in up to 10 different countries, including the U.S. However, that's still pretty limited, as 10GB won't get you very far, as you can read in the Windscribe review.
If there's a specific show you want to watch, and a seven-day binge might cut it, you can also check out PrivateVPN. It might not have as many features as ExpressVPN or NordVPN, but it does come with a seven-day free trial across all devices. It also has a 30-day money-back guarantee and very affordable plans, if you decide to stick with it.
If you like the idea of playing around with features, then CyberGhost is an excellent VPN to consider. Its one-day trial is short, but you can test it out to the max and even take advantage of its 30-day money-back guarantee if you like it.
And of course, as I mentioned before, Surfshark offers a seven-day free trial on mobile devices if you're a smartphone streamer like me.
---
Final Thoughts: Change Netflix Region
Hopefully you now have a fair idea of which VPN you want to use to change Netflix regions and access various Netflix libraries. So if you want to watch some new anime that came out in Japan or to continue watching your home Netflix content while traveling, you're covered.
I highly recommend ExpressVPN if you're looking to invest in a premium VPN service. It's possible to quit it after 30-days and request a refund if you find that it's not working out for you.
Have you ever used a VPN for Netflix? Were you able to unlock all the Netflix libraries? Let us know in the comments below, and thanks for reading.