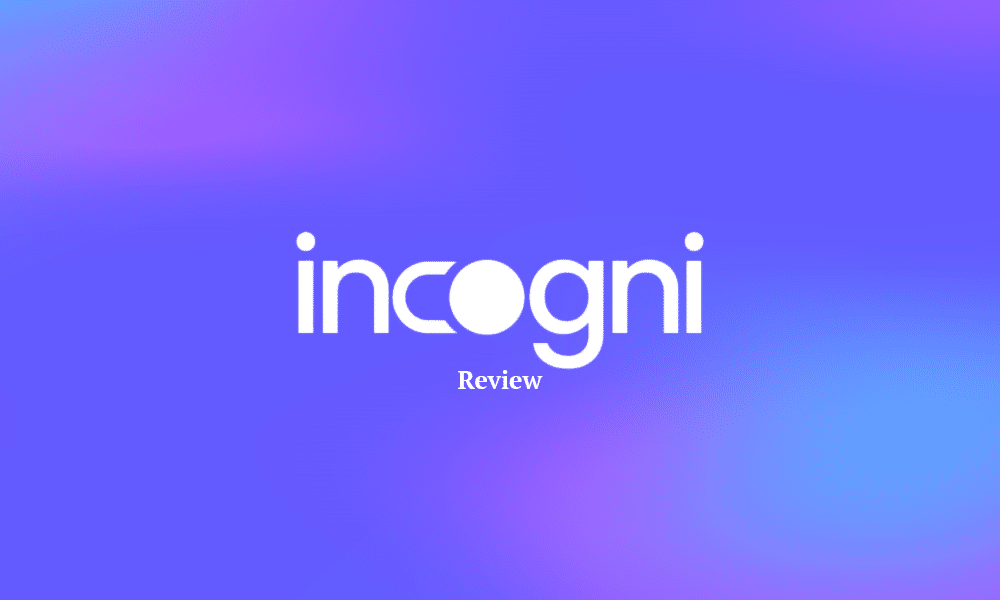 Incogni Review 2023
Quick Summary: Incogni Review
Incogni looks up data brokers that have your personal information and automatically requests they delete your data. It makes the process easy, but there's not much it can do if a request is denied. You can get a full year of Incogni for $6.49 per month.
Here's a hard fact: Your personal data is worth a lot of money. Some people will pay through the nose for information on your habits, likes and dislikes, personality — anything they can use to sell you products at your most vulnerable. Other people are more than willing to sell them that info, but there are ways to fight back. I'll be covering one of them in today's Incogni review.
Incogni is part of the Surfshark One family of security products, which you can learn more about from my Surfshark review. Its simple purpose is to remove you from data collection sites. It contacts businesses that buy and sell your personal data (known as data brokers) and asks them to delete everything they have on you.
Thanks to online privacy laws like the EU's General Data Protection Regulation (GDPR) and the California Consumer Privacy Act (CCPA), data brokers are under more pressure than ever to respect official data removal requests. However, with hundreds of companies buying and selling personal data, it's not feasible for you to send removal requests to every single one of them.
Luckily, Incogni can automate the process. In this review, I'll take an in-depth look at how well Incogni does its job and how you can make it work for your anonymity and privacy. It's one of the most exciting privacy tools to premiere in recent years, and I can't wait to get started.
Does Incogni Actually Work?

Yes, and without you having to do anything except confirm that certain data belongs to you. It also doesn't have every broker on its list yet, but it regularly updates with new data brokers.

Can I Trust Incogni?

Incogni's privacy policy shares your personal information with a lot of third parties, but unlike a VPN, very little of that data is sensitive in its own right. Unless you have a serious reason to keep your home address unknown, Incogni is safe.

What Is the Cost of Incogni?

Incogni costs $12.99 for one month, or $6.49 per month for one year ($77.88 total).

What Is Incogni Data Removal?

Incogni exists to contact data brokers and initiate the data removal process on your behalf. It uses an algorithm to identify data broker companies who might hold your personal information.
---
Incogni Review Overview
Pros
Almost entirely automated
Monthly plans available
Sends & handles removal requests quickly
Removes data from unsafe locations
Cons
Loopholes in privacy policy
Can't tell if a broker has your data
Unclear support for rejected requests
Does not include all data brokers
---
Incogni: Latest News and Updates
With just over a year in existence, Incogni hasn't had much time for dramatic news — the most interesting development of the last year was the announcement that people search sites had been added to the list of data brokers it works with. (Those are the shady "look anyone up!" sites you sometimes see banner ads for.)
I'll be sure to share other developments here as they come up.
---
Incogni Background & History
Incogni is part of the Surfshark One product line, which also includes Surfshark VPN, Surfshark Antivirus, Surfshark Search (a private search engine that doesn't keep logs) and Surfshark Alert (which alerts you whenever your data has been compromised in a breach).
Surfshark is one of the newer VPNs on the market, and Incogni is newer still, having launched in early 2022. It's currently available in the U.S., Canada, the U.K., the EU and Switzerland, though — knowing Surfshark — the list will expand fast.
Incogni aims to help users exercise the right to be forgotten — the principle that your data should only exist in public as long as you consent to it. If you don't retain control over your data, others will; selling it is a multi-billion-dollar industry. Data brokers buy and sell it for purposes like marketing, recruiting, credit checking and people search.
In 2021, there were 540 data brokers registered in the United States. Incogni currently covers about one third of them. That's a great start, but as with the list of covered countries, I'll be watching to see whether it expands quickly enough to keep up with the exploding data exploitation industry.
---
Incogni Features
It's easier to think of Incogni as a service instead of an app like Surfshark VPN. There's no desktop client, and it has very few features. It's like one of those food trucks with only one item on the menu — dedicated to doing a single thing as well as it can.
Incogni's lack of features means that your direct engagement with it will be limited. That's not too much of a problem, though, since the whole point is to take menial work out of your hands. In this section, let's explore what it's like to actually use Incogni.
Onboarding to Incogni is a straightforward five-step process. You create an account with an email and password, verify your email, enter your full name and home address, and sign a waiver authorizing Incogni to interact with data brokers on your behalf. Submitting a payment method is the last step.
If you cringed at the thought of giving an anonymous online service your full name and location, you're not alone. It took me a real effort of will to give out that data, but without it, Incogni couldn't have found which data brokers matched to me. See "Incogni privacy & security" to learn how it keeps your sensitive information safe.
Once you've paid, Incogni sends data removal requests to every data broker that might have information on you. Using my name and address, it identified 132 possible brokers and blasted out an immediate round of requests. While I wrote this review, 58 of them came back and reported they either weren't holding my data or had deleted it. The other 74 are still pending.
All this information is visible on the "dashboard" tab. While I waited for more official data removal requests to process, I clicked over to the detailed view to learn more about the data brokers Incogni was dealing with for me.
Detailed View
The detailed view lists all the data brokers Incogni has sent requests to, both active and resolved.
The five categories of data brokers are as follows:
Marketing data brokers work to build a profile on you, so their corporate clients can target you with personalized ads. These can get extremely granular, even collecting geolocation tracking data, so they can target ads to your physical location.
Recruitment data brokers work for corporate HR and hiring departments, helping them find candidates for open jobs and run background checks on potential hires.
Risk mitigation brokers sell information to any business that might consider you a "risk," like a bank, mortgage lender or apartment complex.
Financial information brokers snoop through your financial paper trail to provide data that can influence your credit score and loan eligibility.
People-search sites gather extensive information about you and provide it to any individual or business that comes knocking. They're all terrifying, and many of them are free.
It tells you three things about each broker: its category, data sensitivity and data status.
A quick side note: You might think that deleting too much of your data could impact your credit score, but in this case that's impossible. Incogni doesn't send deletion requests directly to any major credit bureaus — just to the data brokers that serve them. Cleaning your identity off the internet won't raise or lower your credit rating.
The next column, data sensitivity, is a subjective 1-to-10 rating of how dangerous the broker's data could be if it got out. A rating of "1" means the data is common and often public, like your name and phone numbers. The highest ranking, "10," goes to brokers that collect social security numbers, credit card numbers and other sensitive IDs.
Finally, the data status column describes the status of your removal request. The four data statuses are:
Not started: Incogni has not sent a removal request yet.
In progress: Incogni sent the request, but the data broker hasn't replied.
Completed: The data broker has complied and deleted your data, or demonstrated that it doesn't have any of your data.
Rejected: The data broker has rejected the removal request.
Data brokers can reject your removal request by claiming certain rare exemptions. If that happens, Incogni promises to follow up regularly and have privacy experts working on your case. Since none of my requests were rejected, I can't say for sure how true this is.
You can click on the name of a data broker to get a more in-depth report. Incogni tells you what data the broker collects, provides a short blurb about it and lists each time it's sent a data removal request. The types explain the data sensitivity rating — for example, AccuData is rated 3/10 because it only collects contact information and device fingerprints.
One final note about Incogni's core functionality: It can't actually tell with 100% confidence whether a broker has your data. Instead, it uses an algorithm that determines which brokers are likely to have your data. The algorithm seems a bit overzealous — it turned up 39 false positives in my case, out of 140 brokers — but that's a lot better than the alternative.
---
Incogni Cost: Plans & Value for Money
You can only buy Incogni as a stand-alone subscription. Unlike with the other Surfshark products, you can't bundle it with Surfshark VPN to get a discount. You've got two options: pay $12.99 per month, or pay $77.88 for one year in advance, which works out to $6.49 per month.
Many data broker requests take more than a month to resolve. Luckily, Incogni completes every outstanding request even if you stop paying — it just won't submit any new ones without a subscription.
The best thing about Incogni's pricing structure is that it has a monthly plan at all. Its main competitor, DeleteMe, only lets you subscribe for a year in advance, which costs about $50 more than a year of Incogni. While it's not exactly a crowded field, Incogni is the most affordable data removal solution on the market right now.
---
Incogni Privacy & Security
Incogni needs more personal information to perform its service than a VPN or malware scanner might. Upon signing up with Incogni, you have to enter your full name and home address, or Incogni can't find you in any broker's online databases. You also need an email address and a payment method.
In addition, you'll need to sign a document granting Incogni the legal right to submit deletion requests in your stead. In the past, this required you to hand over limited power of attorney privileges. However, it seems Incogni found another legal vehicle, as the phrase "power of attorney" is no longer used.
Given the additional personal data Incogni needs, its privacy policy must be absolutely bulletproof before I'll recommend it. It offers the following guarantee: "We do not sell your personal information. For example, we share it with our partners who help us deliver our service."
It's not reassuring to see Incogni hiding behind a semantic loophole — "well, we only said we wouldn't sell your information…" The long list of third-party providers that will get your information only makes it worse.
To be frank, Incogni's privacy policy is a severe disappointment. A few marketing cookies are one thing, but to spread personal information so widely directly contradicts the service's stated mission. Using an app from Google, one of the biggest data brokers of all, is especially egregious.
That's not even the worst part, though. Incogni also retains the right to "share your personal information to comply with applicable laws and regulations, to respond to a subpoena, search warrant or other lawful request for information." In other words, if it has to, Incogni will give your home address to the police without a criminal charge or search warrant.
In Incogni's defense, this privacy policy isn't quite as bad as it could be on a VPN. Incogni doesn't process any sensitive information other than your name and address — it doesn't have to see the actual data to request its deletion. Even if hackers were to breach Incogni's own database, they wouldn't be able to find out much.
Mainly, it's just a bad look. I'll let you decide for yourself whether Incogni's Swiss-cheese privacy policy is a reason not to use it — it's unlikely to put you directly at risk.
---
Customer Support & Service
Incogni is so simple that tech support problems are unlikely, but if you have a question, there are two ways to get answers. The first is to go through the FAQ page, which is fairly limited but answers most basic questions.
Your other option is to submit a help ticket. A member of the team will get back to you with an answer. There's no live chat, which is annoying, but there is at least a system to deal with unexpected niche issues.
---
Ease of Use
Most of Incogni's data removal service works without you needing to do anything. Once you've signed up and onboarded, it handles removal requests on its own. However, on occasion, it will need you to take action on a request, usually to verify whether a certain record is indeed yours.
In these cases, operating Incogni couldn't be simpler. Just look at a list of records, click "select" if one matches your name, age and location, or click "skip profile selection" if none of them look like you. That's the most you'll ever have to "use" Incogni, and it's incredibly easy.
---
Bottom Line: Do I Recommend Surfshark's Incogni?
Data deletion software is still in its infancy. If you want to exercise your right to be forgotten and have any chance of it sticking, you've got limited alternatives, like DeleteMe. However, DeleteMe is expensive, so for the individual on a budget, Incogni is the best choice by default.
Not that Incogni wins all its points by attrition. It's a genuinely well-built service that works with lightning efficiency. In the three business days I spent writing this article, it confirmed deletion from 39 out of 140 data brokers, which was over a quarter of my unwanted online presence. To resolve the rest, all I have to do is wait.
Incogni's privacy policy is a huge sticking point, but it's not as bad as it could be (and much better thank DeleteMe), since it never works with your most sensitive data. Having your home address in one database versus 100 is an obvious choice. Still, I'll be watching to see if Incogni ever lets any customer data slip (though it hasn't so far).
What do you think of Incogni? Got your own take on the new world of data deletion software, or another favorite way to send data removal requests? Let me know in the comments, and thanks for reading!
---
Incogni Alternatives
The only true alternatives to Incogni are Abine DeleteMe, the ForgetMe feature on IDX and OneRep. All work a lot like Incogni, but are superior in one way: They actually scan data broker sites for your information instead of just trying to predict where it might be. However, they're also more expensive, and they have worse privacy policies. ForgetMe is only available as part of a larger IDX coverage package.