The 5 Best VPN Browser Apps in 2023
My favorite web browser with built-in VPN features is Opera Browser — it's fast, supports a wide range of platforms, and thoroughly blocks ads. UR Browser is a great alternative for beginners.
If you don't want to deal with a separate VPN app while you browse online, you might be looking for the best browser with built-in VPN features to protect your privacy and offer a bit more security online. In this article, I'll offer five VPN browser options — and most of them are free.
A VPN browser is different from the traditional VPN clients that download as an app to your smartphone or computer devices. A traditional virtual private network app protects the information you send and receive over your device's internet connection. A traditional VPN can also provide a browser app version — which is not the focus of this article.
In comparison, a VPN browser functions like a normal web browser, but also automatically masks your IP address and encrypts your traffic in the background. You get the benefits of a VPN without having to buy a third-party application or service, all through the convenience of your browser.
Note, though, that the other internet-based activities you do outside the browser are not protected with the browser VPN protection. Read on to find out the best VPN browser for you today.
Does the Brave browser have a VPN?

Yes, the Brave browser has a VPN. For now, it's only available on iOS devices. 

Which browser has a built-in VPN?

Opera, Brave and Firefox are three popular browsers that have built-in VPNs. Others include UR, Epic, Avast and Aloha browser, the latter of which functions as a mobile browser.

What is Tor Browser and does it have a built-in VPN?

Tor is a free browser you can use to browse the internet while staying encrypted. However, it is not a substitute for a standalone VPN and doesn't provide access to all sites. 
---
The 5 Best VPN Browser Options: Browsers With Built-In VPN Features
If you're hunting for a VPN browser, there are plenty of options. The list below isn't in any particular order. Each of these VPN browsers has its pros and cons, and most of them are free. I'll give you all the information you need, but picking your favorite is up to you.
A popular free VPN browser for all operating systems and packed with features.
Pros
A verified browser
No data limits
Packed with features
Cons
Chinese parent company
Limited server locations
Pricing: Free
Opera is one of the most popular VPN browsers. It's free to use and has additional VPN features, such as an ad blocker and compression protocols. Compression protocols boost browser speed by reducing the volume of data coming through or blocking ads on screen so you can browse faster.
Another great advantage of the Opera browser is its accessibility across operating systems. It supports all platforms, including Mac, Windows, Android and iOS. It can also be used on Linux and Chrome devices.
Downsides to Opera Browser
However, despite its popularity, it's good to keep in mind that Opera's parent company is part of a Chinese consortium. We all know what China is famous for: censorship.
The Chinese government is known for its high levels of surveillance over its citizens, including browsing data, and there's no knowing how seriously it takes the concept of privacy beyond its borders. Users of the VPN browser might want to be more cautious if using it for sensitive, privacy-warranting activities.
Overall, I'd recommend the Opera VPN, which you can turn on anytime with this reliable browser that has complementary features to your regular browsing activity. Learn more in the Opera browser review.
An easy-to-use, free VPN browser for beginners.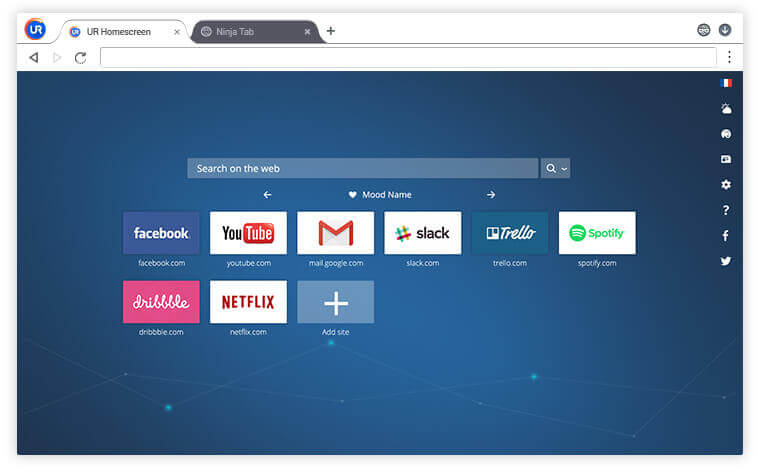 Pros
Beginner-friendly
Attractive interface
Built-in ad blocking
VPN runs on RAM
Cons
Registration required
No kill switch feature
Pricing: Free
UR Browser is a free, fairly speedy VPN browser that is guaranteed to provide you a safe browser experience. The browser is owned by OVPN, which follows a no-logs VPN policy. The browser does store metadata of user sessions for diagnostic purposes.
It also has a long list of built-in security features, including HTTP to HTTPS redirects, ad blocking, cookie trackers, and anti-fingerprinting and anti-phishing features. You can also choose from 16 server locations.
UR Browser's "ninja" mode is its equivalent to Chrome's "incognito," except with VPN benefits. Like incognito, it's a private browsing mode that automatically deletes your data once you exit it, but it adds a function to toggle between levels of privacy. Users can choose which sites operate in "ninja" mode and which don't.
Additionally, one of the first things you'll notice is the user-friendly interface. Plus UR Browser offers customization options like most browsers, including the ability to set your own wallpapers.
Downsides of UR Browser
That being said, UR Browser is not without its faults. You can't use the built-in VPN until you've registered an account, which doesn't take long, but other browsers on this list don't require registration. While the browser boasts 16 server locations for its VPN features, the IP address doesn't always correlate with the server location you've selected, indicating a virtual server.
Furthemore, when you install the browser, it automatically sets up as the default on Windows systems. It can be annoying to manually disable it. Overall, however, UR Browser is a solid VPN browser for beginners.
A privacy-first free VPN browser built on Chromium with several server options.
Pros
Provides 8 VPN locations
No-logs policy
No registration required
Open-source code
Cons
Less secure due to infrequent updates
Small selection of features
Protects only browser traffic, not IP address
Pricing: Free
The Epic Privacy browser is one of the more privacy-centric VPN browser options on this list, so if you're keen on finding one that covers all your tracks, it just might be for you. With a strict no-logs policy and open-source code, you can rest assured your data will stay protected. If ever in doubt, you can look up code audits to be sure. 
It's rare to find free VPN browsers that take privacy as seriously as Epic does. According to its privacy policy, the only data it collects concerns bandwidth and DDoS prevention measures. The browser operates using an encrypted HTTPS proxy server across all platforms except its iOS version, which uses IKEv2 (similar to most VPN mobile clients).
Technically, Epic's use of proxy servers means it doesn't fall under the strict definition of a VPN. Proxy servers are more prone to DNS and WebRTC leaks, however Epic combats this with WebRTC protection. If you're running the browser on Windows, it automatically clears the DNS cache, as well.
The Downsides of Epic Privacy Browser
Epic doesn't have as many features as the other VPN browser options on this list. You'll have to use a Yahoo-powered search engine. You may also have trouble accessing sites due to the limitations of proxy servers compared to the ease you'd enjoy with a desktop VPN client.
That said, Epic is still one of the better privacy-minded browsers. If you pair it with a third-party VPN, it would be the full package.
A paid, secure browser with top-notch VPN features and performance standards for iOS.
Pros
Great performance & speed
Includes Tor Browser
Has a torrent downloader
Strong firewall
Cons
Not user-friendly for newbies
Only available on iOS
Not free
Pricing: 7-day free trial (Firewall and VPN package for $9.99 per month or $99.99 per year)
Brave is another open-source web browser that aims to provide flexible privacy for its users. Co-founded by the creator of JavaScript and the Mozilla project, Brave has a good privacy track record so far.
Brave's features include a built-in ad blocker and the option to surf the web using Tor. It blocks trackers by default, so you can rest assured nobody is following you between websites. You can customize the Brave shield (anti-tracker settings) to block individual features of a site, such as certain scripts, without blocking the whole thing.
Brave uses Guardian's VPN and firewall offerings. It follows a strict no-logs policy and has a kill switch feature, which not all browser VPNs offer. This means if your VPN connection drops, the browser will cut your internet connection to make sure there are no IP leaks. Connections are encrypted using IKEv2/IPsec protocols.
Downsides to Brave Browser
Brave's browser model is similar to Chrome, so new users who don't have experience with VPN browsers or Chrome may feel overwhelmed by Brave's wide range of features. However, most of them are hidden in the browser's settings menu, which should keep new users from too much of a visual overload.
Furthemore, Brave's VPN service is only available on iOS. It's free for seven days. After the trial ends, should you wish to continue using the browser's built-in VPN service, you'll have to go for the paid option. Unfortunately, there is no free version available.
A free VPN browser for Windows that supports Tor.
Pros
Easy to use
Can bypass geoblocks
Has a strong anti-tracking feature
Cons
Slows when multitasking
Only available on Windows
Pricing: Free
The Globus browser's biggest strength is its ease of use. For newbies who want to keep a light browser, or have a preference for minimalist design, Globus may be the best choice. Compared to the feature-packed interfaces of Opera and Brave, Globus is basic, but it's easy to navigate.
While it may be aesthetically simple, Globus's biggest selling point is its privacy features. This browser VPN has strong encryption and a solid firewall.
The developers integrated an anonymizer, otherwise known as an anonymous proxy server. The goal of an anonymizer is to make a user's internet activity untraceable and keep data safe from external parties by using a proxy computer. Globus's VPN agent also allows you to change your location easily to bypass geo-restrictions.
The Downsides of Globus VPN Browser
Because Globus is a Chromium-based browser, users get to tap into better connection speeds. That said, operational speeds can suffer if users have a lot of tabs open at once or tabs that are heavy on visuals, such as streaming videos. For optimal speed, it's best to use Globus for low-key browsing activities.
The Globus VPN browser is only available on Windows. It also hasn't been updated in years, so it may not be able to respond to more modern attacks. But for casual, safe browsing, Globus is great.
---
Is Tor Browser a VPN Browser?
It's important to know that Tor Browser, which operates on an onion-routing system, is not a direct substitute for a VPN and therefore cannot be used as a 100% reliable replacement for a traditional VPN browser.
Tor Browser doesn't have a built-in VPN like the other browsers on this list do. However, it does follow the same philosophy of privacy as VPNs do. It's used to access the World Wide Web, just like any other browser, but includes features that have attracted an audience of privacy-concerned users.
Tor works by routing your internet traffic through a series of computers called "nodes." These nodes are run by volunteers. The nodes are set up to make it difficult for websites to figure out who you are and where you're located.
However, these nodes are also used by cybercriminals and online hackers to access the dark web — a part of the internet reserved for nefarious activities. Accidentally navigating to the wrong page or clicking a seemingly innocent link can lead to your computer being infected with a virus or hacked by someone with bad intentions.
Tor also does not conceal your IP address from every website you visit. It only conceals your IP address from the websites you visit while using the browser (unlike a VPN desktop client, which works on a network level). Without being able to protect data from the ISP level to the destination server, there is little chance of accessing geoblocked websites.
While Tor has its own built-in security and privacy benefits, it does not offer the same protection against snooping and censorship that a true VPN does. Therefore, if you plan to use Tor, it's best to pair it with a VPN.
With a full-fledged VPN, you can get access to servers in multiple countries, double-hop server protection with some, the kill switch VPN feature to protect your IP address and more.
---
Should You Use a Browser With VPN Protection?
A VPN browser can be more convenient to use than a VPN desktop client. They're also a secure, more private alternative to a regular browser and don't take much more space or processing power.
The best VPN browser will let you surf the internet while securing your personal data and privacy, regardless of the WiFi network you are using. That said, VPN browsers aren't equal to third-party VPNs. Here are some of the cons to keep in mind before using a VPN browser.
Not all VPN browsers use authentic VPN servers. Some use an HTTPS encrypted proxy, instead. These can be used to access restricted websites or geoblocked content, but they won't send your data through an encrypted tunnel like VPNs do, making them the less secure option.
There are many premium VPN browser options available.
Geo-spoofing is not available on all VPN browsers, meaning you can't be sure of accessing geo-restricted content.
Free VPN browsers that rely on HTTPS proxy carry a risk of WebRTC and DNS leaks.
---
Final Thoughts: The Best VPN Browsers
A lot of internet users don't feel they need the extra protection VPNs can provide and just want to keep their browsing private without setting up a new app. Thankfully, the best browsers like Brave, Opera and the others on this list have built-in VPN functionality.
With these browsers, you can dodge geoblocking and censorship and protect your privacy by encrypting your data.
It's important to note that not all browsers are as effective at hiding your public IP address, especially those without a kill switch. If you want true anonymity, even when the connection dips, it's better to use a full-fledged VPN service with military-grade encryption.
Do you prefer a VPN browser or do you go all out and download the VPN desktop client? Drop your preference in the comments, and as always, thank you for reading.